Journal everything! From food to workouts to setting goals. You can use a day planner, a journal, or even bodyspace.com.
Principle #2: HAVE A PLAN!
Have a plan. Decide what type of exercise you want to do and the timeframe youíre going to do it in.
Principle #3: SET GOALS!
Goals! Set short goals and long goals. For example, if your long term goal is 20 lbs. 5 lbs. should be your short term goal.

Principle #4: FIND MOTIVATION!
Motivation! Find something that motivates you whether it is a magazine, a picture of yourself, or a family reunion.
Principle #5: EAT MORE!
Eat 5-6 small meals a day spaced 3 hours apart.
Principle #6: VARIETY!
Make sure you have some form of protein, good carbs, and good fats at each meal. For example, a chicken salad with spinach, and olive oil.
Principle #7: STAY HYDRATED!
Drink plenty of water between meals. Sometimes when you are hungry, you are really thirsty.
Principle #8: SUPPLEMENTS!
Take a multivitamin and proper supplements. Sometimes you donít get that from food alone.
Principle #9: MAXIMIZE RESULTS!
To maximize your results, you need to do a combination of cardio, resistance training, and proper nutrition.
Principle #10: BEWARE OF FACTORY FOOD!
And last but not least, number 10. Stay away from factory food! Chances are if it comes in a box, it probably isnít good for you!
If you can adhere to these principles, I guarantee you will be in the best shape of your life!

What does the phrase ďPush HarderĒ mean to you? The more you push yourself, the harder you work. Keep pushing hard to reach your goals. When you get to your goal, make another goal. It is very gratifying to get to your goals. Never stop pushing hard! That is what life is about!

What advice would you give to someone who is just getting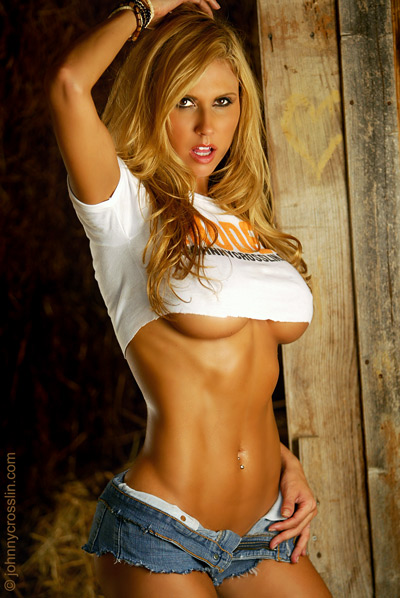 started as a serious bodybuilder?
Wow, how much time do you have! LOL! I could write a book about this. No, but seriouslyÖdo your research!! I canít stress this enough. Read books on how to lift with proper form and technique. Educate yourself on the proper foods to maximize your results. Hire a trainer that specializes in that area. Talk with other bodybuilders and fitness professionals. Get different views, opinions, and fatcs. What works for them, may not work for you. Getting to your long term goal takes proper planning and time. You will get there. Stay focused and educate yourself! It is hard work. This is not a lazy profession!
Supplementation:
I use Gaspariís Lean and Fit Stack for Women. It consists of three great products.
The first one I use is Cytolean. I take that first thing in the morning with a full glass of water. This will get me through my morning cardio and curb my appetite all day. After cardio, I eat breakfast to fuel up.
Then later in the day when I am ready to lift weights, I will take my favorite workout product ever, SuperPump250!! You have to get the grape flavor, YUM! I take it 30-45 minutes before I lift and then hit the weights. I love the burst of energy and mental focus it gives me to sustain my aggressive workout. This will definitely make you push harder than you have ever pushed! If your not in the mood to workout, this will put you back in the right mind frame!
Then after my workout, I replenish my body with Gaspariís IntraPro whey protein powder. My favorite way to eat this protein powder is to put a scoop of double chocolate in my thick greek yogurt (FAGE is my favorite brand, it is so thick.). It tastes like a dessert! I look forward to this tasty treat after my workout. Sometimes that is all I can think about during my workout!! After your workout, you have a 20-40 minute window of recovery to rebuild/repair the muscle. I canít think of a better way to have your protein powder. You have to try it. It is the combination of the that particular yogurt and Gaspari protein powder that make it delicious! Plus it is fast acting to repair the muscle!
Competition History: