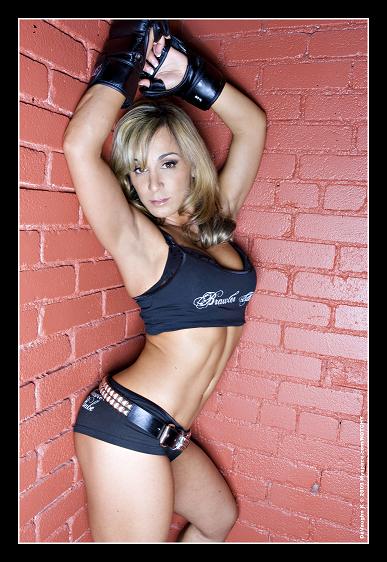 The UCW Radio Host Louis Velazquez had the opportunity to have Xtreme Team Girls leader Linda Rose on the Show.
Linda-Rose joined Cage Fighting Xtreme in December 2008 and currently is the head of the "X-Treme Team Girls" who are positioned to represent the organization, support the fighters and interact with the fans. She is a former fitness competitor and 5 time champion of the sport, earning her "pro status" in 2005 within the FAME organization. She is also classically trained in many styles of dance and worked briefly as an instructor/choreographer for a well known, national dance studio. More recently Linda worked as a professional, certified personal trainer at one of the premier sport clubs in the country and currently fills her daytime hours doning a business suit and working for a financial institution. With a love for fitness and athletics, and an obvious interest in MMA, Linda recently began learning both boxing and Muay Thai and is excited about the challanges that come with learning both new art forms. Always one to seek new avenues to conquer, Linda's future goals include everything form completing a marathon to writing and publishing her own book. Linda Rose can be contacted though administrators of the CFX website: www.cagefx.com or through her myspace fan page: www.myspace.com/lindarosefitness


Facts of Interest


A day in the life: I wake up at 4:45 am, and head to the boxing studio for a "fighters training class" I then shower, don business attire and head to my 9-5 "professional job." at 5:30 pm I'm back on the road heading to the school where I practice Muay Thai. (I train along side with a lot of the fighters that fight for CFX!)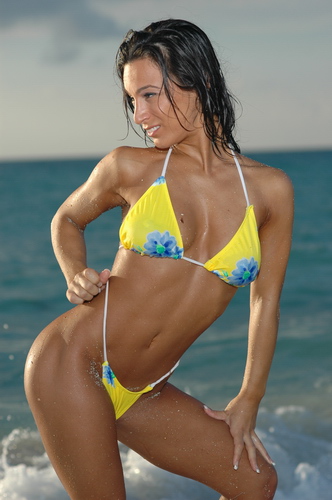 I'm a former fitness competitor, and in 2005 I won every local show I entered including, the Fitness Atlantic, NPC New England, and Ms. Fitness Massachusetts. That same year I won a national show with the FAME organization and won my pro-card. as the newest "pro" I was able to compete at this level that very same evening and placed just shy of the top 5. I intend to "come out of retirement" and compete again some time in the future. (right now focusing on the martial arts.)

I've been with Cage Fighting Xtreme since December and have watched the organization grow in less than a year to what it is today. I've been involved behind the scenes, and have witnessed Linda Shields work her magic!

I currently head up the Xtreme team girls and our role is bigger than what one would think. We support the fighters, hold signs and interact with the fans, but we are also behind the scenes. We know the sport and can speak intelligently about the fights, We represent the organization.

When I'm up on the "Catwalk" around the cage, I have so much fun. I love the fans because to me it's like I'm seeing friends I haven't seen in a while and we are all there for the fights. I make it personal, I make eye contact with people, I wave and try to get them as excited as I am about the fights that are taking place that night. I also have fun with it and never take myself to seriously. I think the audience responds to that, because it's genuine.

Interview for June 20th CFX "Rumble in the Jungle" program book

What do you like about Cage Fighting Extreme?
Not only do they have great fighters, but their events are very well organize and fun. Of course I love the attention and the crowds are always so responsive. I have a ton of fun interacting with them and I've met so many great people doing this. I also love watching the fights and am in awe of the way these athletes draw on multiple disciplines and techniques. I admire their dedication and have an enormous amount of respect for the way they train and prepare for these events.

Speaking of training and being an athlete, you know a little about this stuff on a personal level don't you?
Yes I do. I competed in the sport of 'fitness." I hold the 2005 first place title for Ms. Fitness Massachusetts, NPC New England (now the Jay cutler classic,) and the Fitness Atlantic championships. I then went on to compete nationally and earned my pro card within the FAME organization. I fully intend to compete again someday.

Well you've obviously kept in good shape since then. What's your training like now?
I train between five and six days week. I mix up my workouts a lot. Currently I do a boxing circuit every morning and mix it up with weight training. Last year, at this time, I was all about heavy lifting to gain muscle mass. Now I just want to maintain it!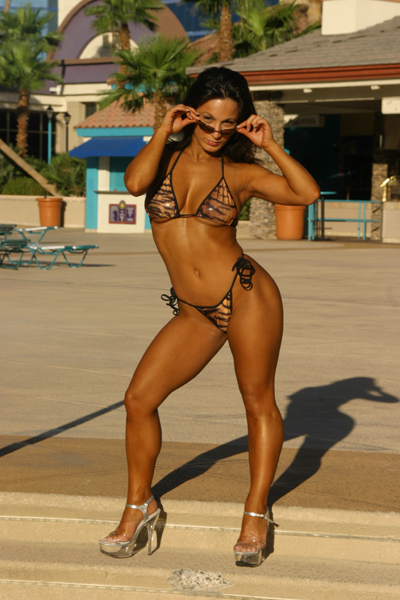 So who is your favorite CFx fighter and why?
LEE BEANE "THE BEAST!" So far he's undefeated and my prediction is that we'll see him keep that status this evening. A funny story I have about Lee is when we did a photo shoot together. The photographer asked him to make a bicep and then actually had me hang from his arm. later, he pressed me overhead like it was nothing. It was so funny. I felt like the lady in that King Kong movie!

Which other athletes do you like to see fight?
Well Many of them. Shawn the "Nec Breaker Baker" is great to watch because he's so intense. He also puts on a great show. When he walked out in that headdress at CFx 2, the crowd went crazy. I mean, the entire place just erupted! I think Rick Hawn is an incredible athlete, he's another one that's undefeated. and I can't say enough about Jason Sarbacker who won his last fight in 17 seconds. I hope to see him do well again tonight and would love to see him fight as a pro!

It seems that you are really getting to know the sport...
Well I'm trying. Admittedly, I'm just learning about it. But being at these fights I can't help but get swept away in the intensity of it all. I've been inspired enough to want to learn Muay Thai! I am going to give it a shot, although, I'm quite sure that's going to be a pretty humbling experience!

Well that's great. Good luck with that and let us know how it goes. Thanks for the interview and tell us how people who'd like to get in touch with you can reach you.
Well, Thanks! It was my pleasure.