This is an interview graciously given to us at Karate Kidz Online.
Interview with Martial Arts Superstar, former #1 Black Belt Martial Arts Champion and Black Belt Hall of Famer Karen Sheperd interviewed by Louis Velazquez.
It was a great honor to have been granted this interview by such an incredible person, her future will just continue to get brighter. She is an inspirations to her fans and the martial arts community as a whole, if you set your sights on something reach for it and don't give up until you attain it, that is her attitude and that is what makes her inspiring. Its a great pleasure to know her and to have this interview for our visitors and supporters.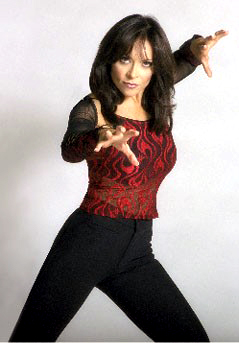 LV: How did you get started in Martial Arts?
KS: I was a huge fan of Bruce Lee at the time+

LV: Who inspired you the most which lead to your success today?
KS: My Father. When I told him I wanted to move away to study martial arts full time his response was very supportive. He expressed that although he did not want me to move away, he wanted me to follow my dreams and to never look back and say "what if". I know it made him sad that I was leaving my home town and moving far away. That was hard for him, but his love for me allowed him to set me free to follow my dreams. I wanted to show him that he was right to let me go.
LV: Martial Arts in general has become a major part of your life, do you plan on increasing your knowledge or are you content?
KS: Oh, there's so much I don't know! I love learning new things. Being a student is actually the most fun. What's on my mind right now is fencing. I had the opportunity to double Madonna last summer for a music Video (for the "Die Another Day" video). I did all the fights and stunts for the Madonna dressed in black. I had two weeks of fencing training for that job and I just fell in love with it. I'm going to take more fencing lessons and explore that for awhile. It's a totally different fighting art than what I've experienced with Asian arts.
LV: You have been in numerous martial arts and action movies, how did you get started on your road to Hollywood fame?
KS: My tournament accomplishments helped me get my foot in the door. At the time I was at the top of my game and was rated #1 in the USA in women's black belt forms competition. I was invited to star in a movie in Japan, "The Shinobi Ninja" with Eric Lee and Tadashi Yamashita. I fell in love with movie making and decided right then and there that's what I wanted to do with my life. I moved to Hollywood, got an agent, took acting lessons and started going on auditions.
LV: You are not only a practitioner of Tai Chi Chuan, but you are also a student of Shotokan Karate and an accomplished gymnast. What is your ultimate goal with your martial arts and what are your own personal ultimate goals?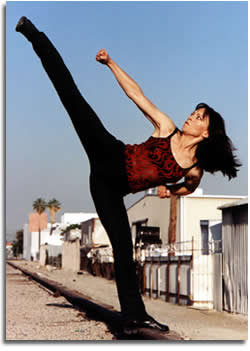 KS: I started with Shotokan, then studied Tai Chi Chuan, then Kajukenbo, then Wun Hop Kuen Do Kung Fu. My ultimate goal with martial arts is to always train, to be able to kick and punch for as long as I live. Also, to perhaps open a training camp or school for the disabled. I want to create an enviornment where people who have disabilities are free to create their martial art and adapt their martial art to suit them, not where they feel they are limited by their physical disabilities.
I also would like to do more acting. Not necessarily martial arts related, but straight acting roles for t.v., movies and theater.
LV: How do you feel about martial arts becoming part of mainstream America?
KS: When I began studying martial arts, only 10 percent of martial arts practitioners were female. Now it is 50 percent. It' great that more people are aware of the benefits of training in the martial arts. I'd still like to see it even more mainstream. I've always thought forms competition should be in the Olympics and should get the same exposure as gymnastics and figure skating.
LV: What are your feelings on how women are portrayed in Hollywood and on television today?
KS: I have mixed feelings. There are some totally tasteless shows and there are some wonderful shows that show strong, independent, smart women. There are definitely more female action roles than when I started. I don't believe in preaching about what shows to watch and not watch. I believe in freedom of speech and expression and I believe it is the responsibility of the parents to guide children about what is right and wrong.
LV: With the growth of martial arts on an international scale do you think that will force Hollywood to take notice of great female martial arts movie talent, such as yourself and give them a big push as they have for the Jackie Chans and Jet Lis of the movie world?
KS: It has been my dream that this would happen for as long as I can remember. It still has not happened. Hollywood has a real problem, for some reason, with backing a female martial arts celebrity. Someone needs to take a chance on someone like me. It will work if it is packaged correctly: the right script, the right director, the right publicity, etc. The powers that be in Hollywood who could push something like this through are big chickens. They need to take a chance.
LV: You have many martial arts titles gained throughout your career. One is the Grand Champion title at the prestigious U.S. Open Karate Championships. Can you tell us how that changed your life?
KS: It was one of the most memorable moments of my competiton days. I was the first woman to ever win Grand Champion. It made the national evening television news. That was cool. It was a nice win which validated all my hard work. As far as changing my life, it guided me towards my path to Hollywood and it gave me more visibility with tournament promoters. They all wanted me at their national tournaments. At the time I couln't really afford to travel the national circuit (there was only one at the time) and it was a relief to have the promoters pay for my travel expenses. My trophy for that tournament, by the way, was supposed to have gone into the Guiness Book of World Records for the world's tallest trophy but they didn't get it submitted in time. It was huge, something like 9 or 10 feet tall. I no longer have it. It was destroyed in the 1994 LA earthquake.
LV: How has your involvement in Martial Arts changed your life?
KS: I can't really say it's "changed" my life but rather its effected my life. My decision, as a very young girl, to be a martial artist set the course for my life. Martial arts has taught me many disciplines which I have applied to daily life. If I had to sum it up, I would say that martial arts have always been my inspiration. They helped me maintain my drive for success and gave me the discipline to follow my heart toward achieving my goals.
LV: Your devotion to martial arts has lead you to a very successful film and television career, but you still find time to give back to the martial arts community. How do you manage that?
KS: I just make time between filming because it's important. When I do appearances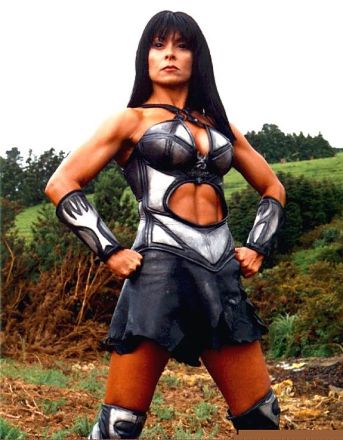 and seminars, the most awesome thing for me is to see the result of being a positive influence on other martial artists. When I see that I've inspired someone in a positive way, it's pay-back for me in a big way. I really dig that. I didn't really have any female martial arts role models when I was starting out, so I especially like to help motivate the girls and show them that they can go for it. But not just the girls. The boys really get into my film fighting/stunt seminars. It's fun to see them all (boys and girls) come away all motivated and fired up about training.
LV: What are your feelings on young martial artists today?
KS: They are so lucky, there is so much opportunity out there for them. There are so many schools to choose from, so many tournament circuits, so many learning materials, and a lot of cool equipment.
There are so many more young people training in martial arts these days, they have a lot of company and can help motivate each other.
LV: Where do you see yourself in the future? Hollywood and in the Martial Arts?
KS: I see myself in my a television series starring as a cop or investigator who can handle herself in physical confrontations. Not a martial arts show, but a drama ... like CSI or something that focuses on storyline. Not a lot of fight scenes, but once in a while I dish it out as needed.
As long as I'm wanted, I will continue to travel around the country teaching martial arts seminars and attending martial arts conventions and appearances and perhaps begin the training camp I mentioned earlier.
LV: And lastly, do you have any advice for the martial artist and potential movie talent reading this interview?
KS: First and foremost ... stay focused on your goals. It's important to keep training and learning as much as you can. Develop techniques that make you stand out from others. Work on techniques that not everyone does, that you can do best. Make yourself unique. Above all, show confidence and determination. When outside influences get you down and other things stress you out, focus on your work and your goals. Stay positive and ... go for it!
Karen's current projects: I think it might be of interest to Karate Kidz because the shows are popular and I get a lot of fan mail from young kids who watch the shows. I am the stunt/fight double for the "Faith" character on "Angel" and "Buffy The Vampire Slayer". Those who watch the shows know all about it. Also, I am getting ready to star in a movie where I play a 1/2 vampire and 1/2 angel ... we hope to begin filming this summer.

I would like to thank Karen Sheperd once again for granting this interview and we urge the martial arts community to support her as she continues to accomplish great things.
You can visit Karen Sheperd's website at www.karensheperd.com