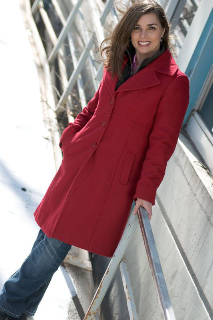 Karen Lincoln was born and raised in Seattle Washington and Graduated from the University of Washington with a degree in Editorial Production.
Lincoln is attracted to physical challenge and adventures from Showing horses, to having a successful career in Triathlon. to making summit on Mt. Rainier (14,411), which is the most technical mountain you can climb on the North American continent, to snowboarding.
Her wedding was a bike tour with 25 other people who rode 350 miles through Tuscany Italy with a stop in San Giminano for the wedding.
She considers herself lucky enough to have been asked to be a model for Stock Car Magazine, made it on Northern Exposure TV Series, was in, Pandora's Clock (NBC MINI SERIES FOR TV) with Richard Dean Anderson, Jane Leaves and Benson as well as demonstrate Hulk Hogans thunder mixer.
Lincoln did a handful of Thomas Lincoln Ford Mercury Commercials too. She opened my first business, Hot Java Cafe, Inc. in 1993 and opened six coffee shops which were successful and gained her the front page of the business section in Seattle Washington.
She sold it on a stock option purchase and invested the money in Real Estate and purchased another business in Denver. She has a ten year old daughter,
"Taylor who is the light of my life and I love sharing my adventures with her!!" said Lincoln
She currently owns a talent agency that specializes in child talent. Its been in Denver for 24 years and this allows her flexibility to be a single mom, travel and share life with Taylor! One of Lincoln's favorite sayings in her life is "timeless Mind is an ageless body."