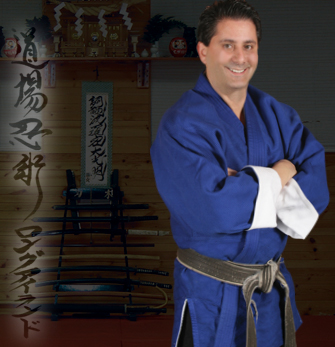 Allie Alberigo began his martial arts training in 1968 in a martial art style called Judo and Karate under one of the first multi-school locations - Jerome Mackey. At the age of 7 years old he attained a junior Black Belt when the school suddenly closed. Fortunately during this time period he also trained periodically with his cousin in the art of Aikido. His cousin a prominent martial artist also guided him to the rank of Black Belt earning his second Black Belt in Aikido. Allie then met another teacher in the art of Shotokan Karate – studying to the rank of Brown Belt during high school. Allie became disheartened with the level of training due to lack of discipline within the class and decided to leave the school. Throughout this time he was an avid reader of Black Belt Magazine and Inside Kung Fu and by chance was very lucky to run into his next teacher Tuhon Chris Sayoc of the Sayoc Fighting system of Kali/Arnis.

Allie soon became a student and ended up training for many years as a direct student. Eventually he was handed the keys to the school and told it was his reward after many years of dedicated training. Allie decided after teaching for two years, running the school and owning a business all while going to high school and pursuing a career in the music industry, he wanted to go back to being a student and decided to close the school.

His thirst for martial arts education didn't stop there, he continued going to martial arts tournaments competing as well as watching. He was enamored by one individual who seemed to perform the martial arts exactly as Allie wanted. His name was Shihan Felix Vazquez. As destiny played its part, Allie was driving in his truck during work hours and saw a school in Deer Park Long Island, with a grand opening sign in the front window. Allie stopped in and met his soon to be good friend Shihan Robert Hernandez. The connection was interesting, Robert Hernandez was Shihan Vazquez's top student, it seemed that Karma played its part. Allie began training, but soon after Shihan Robert closed the school due to the travel schedule, commuting from Queens 5 days per week, being a parent and working full time. Allie was encouraged by Shihan Hernandez to continue training and he gained a personal invitation and started to travel to Ridgewood, Queens 6 days per week to train directly under the master instructor at the headquarters of the Circle of One system. Allie along with a few others continued to reach the highest ranking ever bestowed by Shihan Vazquez's students and the title of Renshi Master Instructor and the rank of 4th degree Black Belt. There are only a handful of students at that rank to this day.

During his training with Shihan Vazquez who is now known as Soke Vazquez, Allie had traveled the world competing on Shihan's International Ninjutsu Demo team. Allie became a champion in the tournament circuit for many years attaining Grand Championship Titles and hundreds of first place wins in Self Defense, Weapons, and Fighting. At some point Shihan Vazquez, and some of his top students were invited to a seminar which would be a defining moment for Allie. Allie was to meet the Japanese Grandmaster by the name of Shoto Tanemura for the first time. Allie was amazed at Tanemura Soke's technique and made a decision to train with him. He asked permission from Soke Vazquez and started traveling to Japan.
Unfortunately, Shihan Vazquez closed his school and took a hiatus due to health reasons. During the time period from around 1992 – 2005 Kyoshi Allie traveled to Japan 17 times having lived there from anywhere from 12-30 days at a time. He trained with the Grandmaster personally also traveling the world to Tai Kai's (world gatherings) in places such as Japan, England, Italy, Milwaukee, and Maine. Allie along with John Olshlager, hosted Tanemura Soke for many years in N.Y. Allie became the 5th highest rank in Genbukan in the United States with the title of Renshi and the head of Genbukan in N.Y. considered a Dai Dojo Cho – the largest school in the organization at that time.
The title of Renshi is acquired through a special ceremony bestowed only on direct students of Tanemura Soke and quoted "this is for people whom he can trust with a pure heart." Tanemura Soke many times said Allie was like a son to him, with a knowledge and spiritual ability far beyond his years. Allie tested for Renshi in front of 250 students in Colorado, where he sat in seiza (kneeling - sitting position) with Tanemura Soke in front of him with a bokken, with no advance notice Soke Tanemura would swing at lighting fast speed at the students top of his head. Allie evaded the strike on the first try. "I thought everything was odd, I sat in front of Soke and my heart was beating unusually fast, I slowly controlled my breath and eventually could feel Soke's heart beat, we were in sync and then he cut. It felt as if everything was in slow motion. I then rolled, he smiled and I passed the test. Later on, I asked Soke if he felt the same connection and he smiled and said yes, we are connected, spiritually." Allie has told this story to many of his students. Later on Allie asked his top student Frank Olmeda who was there if the cut was in slow motion, still not believing he had experienced Mushin – Frank Olmeda replied "it was lightning fast, I didn't even see it."
After many years of martial arts training Allie Alberigo made the decision to share his knowledge with the public once again opening his first school. Having trained in martial arts since 1968, becoming one of Shihan Vazquez's top students and traveling to Japan becoming one of the highest ranks in the United states and a handful of Renshi's in the entire world in Genbukan Ninpo and Kokusai Ju Jutsu. He continued his quest for martial arts perfection. In 1991 he opened the first L.I. Ninjutsu Center, the "Hanata Dojo" on Higbie Lane in West Islip, N.Y.
At that time the school was just plainly called the L.I. Ninjutsu dojo of Self Defense and was a school primarily teaching "Circle of One System" from Shihan Vazquez with a blend of Allie's experiences. The School was a small 700 sq. foot school. The school grew rapidly, and after one year relocated to its present location at 235 Union Boulevard. The school prides itself on being one of the largest facilities for martial arts instruction on Long Island and in New York as well as one of the few schools that teaches traditional Ninjutsu also known as Ninpo and Classical Ju Jutsu. The 6700 square foot building has two separate training floors and a full shuriken and archery range. Also on premises is a complete martial arts equipment and supply showroom called "A Touch of Zen" (www.ATouchofZen.com) and a private parking lot.

After a visit to the school and a personal blessing the Grandmaster granted a Japanese name of "Hanata" meaning flower garden for its large training facility and beautiful interior design. Kyoshi continued this tradition with all of his schools giving them a spiritual name based on personal meditation and feeling.
There are many rumors within the internet community and other Genbukan members as to why Allie Alberigo is no longer affiliated with his Japanese teacher. To honestly and truthfully put an end to rumors, Since 2007 Allie Alberigo had decided to take a different path. Allie decided to concentrate solely on his students, and the growth of L.I. Ninjutsu centers. There are many Kans (family lines) Genbukan, Jeninkan, Bujinkan etc. Without adding to the negativity and rhetoric of people who are ignorant to the truths Kyoshi Allie decided to separate from the political mess and stand on is own spreading his 4 decades of martial arts experience.

His goal is to have the largest individual Ninjutsu School on the planet. Some may immediately have comments and say this is due to greed, or monetary goals, looking for a way to publically discredit, but this is entirely not true. The goals are to continue to teach and spread the virtues of the martial arts as well as spiritual training. The real lesson is summed up in this one statement by Allie Alberigo,

"After all these years, I want to stand on my own two feet and develop a legacy, just like the masters of the past. Unfortunately as most martial arts teachers who are the head of their system, they will take heat from negative people. I want my track record to speak for itself.

Also, it seemed I reached a time that I wanted to take my 4 decades of training and experience and put together a system of Ninjutsu/Ninpoand Ju Jutsu that I felt was applicable to the 21st Century. I don't only teach martial arts but also life-skills. Our approach at L.I. Ninjutsu Centers is a combination of old virtues with new technology. My success record with students stands above the rest. I have hundreds of Black Belts who have gone on to unbelievable heights, such as Police Officers, sheriff's, Secret Service, C.I.A., F.B.I., Doctors, Lawyers, Heads of corporations etc.

A good majority of my Black Belts have been training in our schools for as long as 18 years, and the average around 7-10. If even some of my teachings have helped them achieve the successes in life they are experiencing then I am honored and have done my job.

In closing, there are many people out there that love to say negative things about everyone. There is a saying that people who spend more time talking about you, is due to their lack of confidence and ability in themselves. If they feel the need to focus on me, my schools and what I am doing rather than perfecting themselves, then they are truly missing the point!

I ask that you come to my school and experience what we have developed curriculum, atmosphere, brotherhood, family and intensity over the last 18 years and counting and decide for yourself. If it is not right for you, then you can move on, if it is, then welcome to our family!"